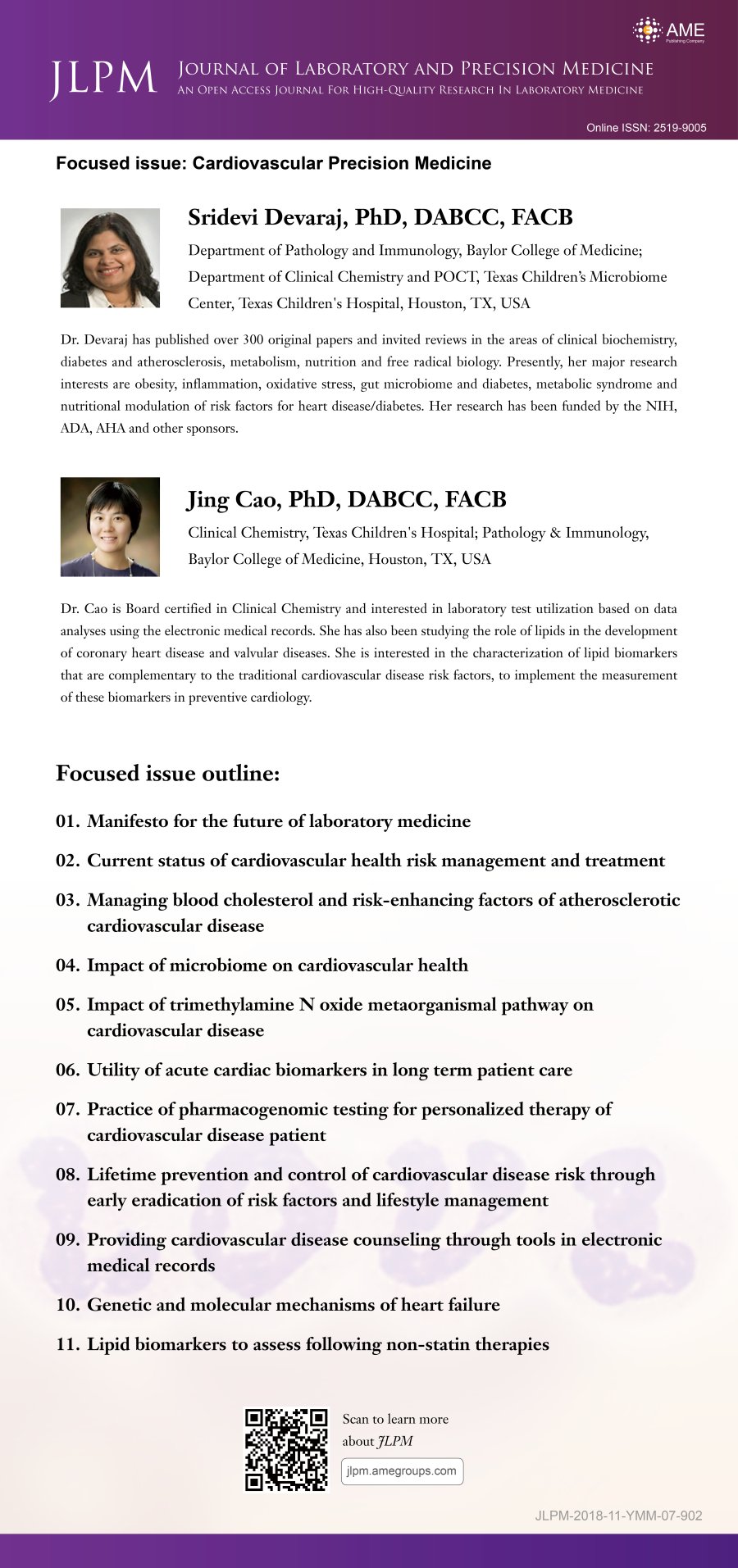 This focused issue Focused Issue on Cardiovascular Precision Medicine is edited by Dr. Sridevi Devaraj, Department of Clinical Chemistry and POCT, Texas Children's Microbiome Center, Texas Children's Hospital, Houston, TX, USA; and Dr. Jing Cao, from Clinical Chemistry, Texas Children's Hospital; Pathology & Immunology, Baylor College of Medicine, Houston, TX, USA.
Dr. Sridevi Devaraj has published over 300 original papers and invited reviews in the areas of clinical biochemistry, diabetes and atherosclerosis, metabolism, nutrition and free radical biology. Presently, her major research interests are obesity, inflammation, oxidative stress, gut microbiome and diabetes, metabolic syndrome and nutritional modulation of risk factors for heart disease/diabetes. Her research has been funded by the NIH, ADA, AHA and other sponsors.
Dr. Jing Cao is Board certified in Clinical Chemistry and interested in laboratory test utilization based on data analyses using the electronic medical records. She has also been studying the role of lipids in the development of coronary heart disease and valvular diseases. She is interested in the characterization of lipid biomarkers that are complementary to the traditional cardiovascular disease risk factors, to implement the measurement of these biomarkers in preventive cardiology.
Focused issue outline:
Manifesto for the future of laboratory medicine
Current status of cardiovascular health risk management and treatment
Managing blood cholesterol and risk-enhancing factors of atherosclerotic cardiovascular disease
Impact of microbiome on cardiovascular health
Impact of trimethylamine N oxide metaorganismal pathway on cardiovascular disease
Utility of acute cardiac biomarkers in long term patient care
Practice of pharmacogenomic testing for personalized therapy of cardiovascular disease patient
Lifetime prevention and control of cardiovascular disease risk through early eradication of risk factors and lifestyle management
Providing cardiovascular disease counseling through tools in electronic medical records
Genetic and molecular mechanisms of heart failure
Lipid biomarkers to assess following non-statin therapies
Disclosure:
The series "Cardiovascular Precision Medicine" was commissioned by the editorial office, Journal of Laboratory and Precision Medicine without any sponsorship or funding. Sridevi Devaraj and Jing Cao are serving as the unpaid Guest Editors for the series.