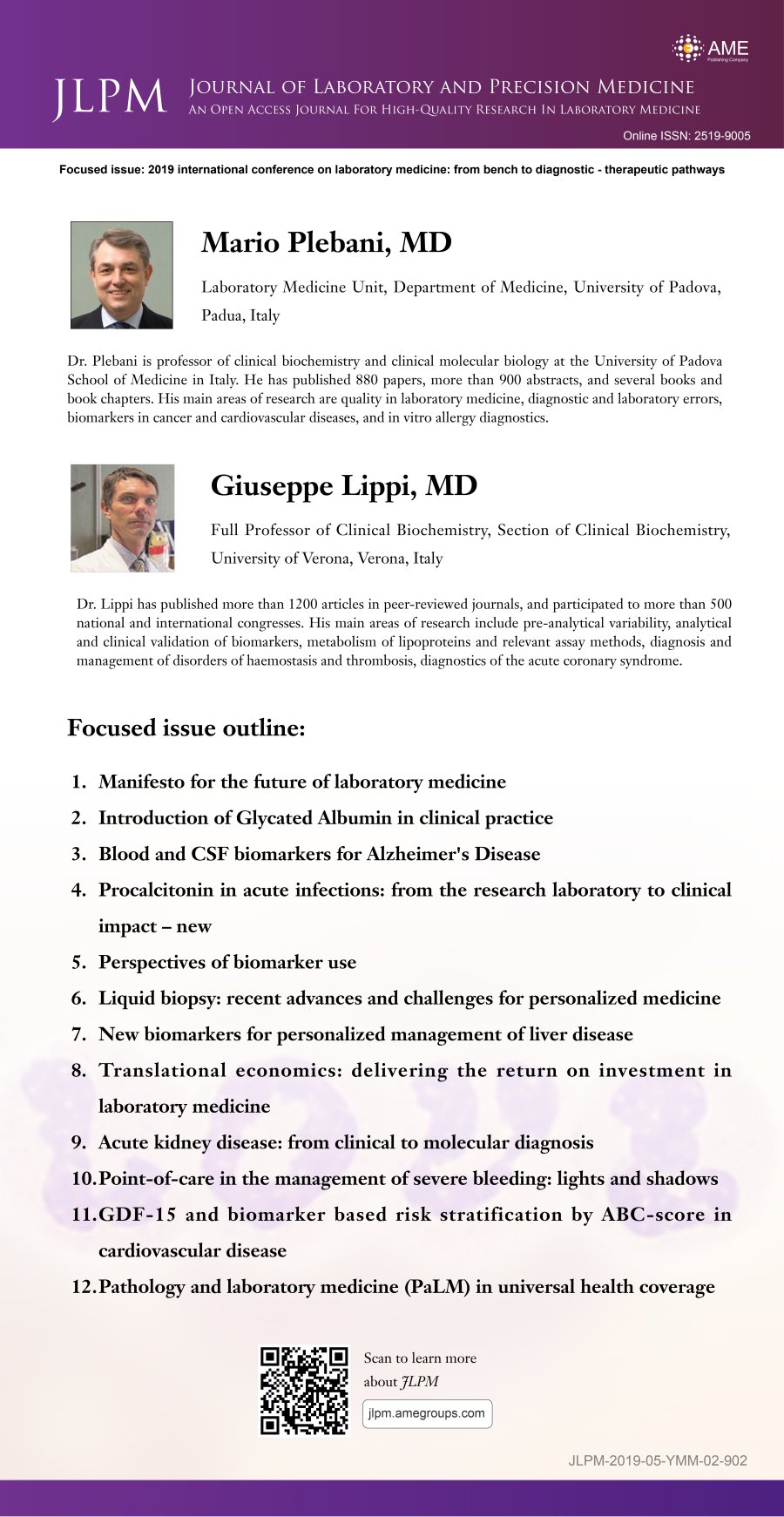 This focused issue dedicated to the "2019 international conference on laboratory medicine: from bench to diagnostic - therapeutic pathways" is edited by Prof. Mario Plebani, from Laboratory Medicine Unit, Department of Medicine, University of Padova, Padua, Italy, and Prof. Giuseppe Lippi, from Clinical Biochemistry, Section of Clinical Biochemistry, University of Verona, Verona, Italy.
Prof. Mario Plebani is Professor of clinical biochemistry and clinical molecular biology at the University of Padova School of Medicine in Italy. He has published 880 papers, more than 900 abstracts, and several books and book chapters. His main areas of research are quality in laboratory medicine, diagnostic and laboratory errors, biomarkers in cancer and cardiovascular diseases, and in vitro allergy diagnostics.
Prof. Giuseppe Lippi has published more than 1200 articles in peer-reviewed journals, and participated in more than 500 national and international congresses. His main areas of research include pre-analytical variability, analytical and clinical validation of biomarkers, metabolism of lipoproteins and relevant assay methods, diagnosis and management of disorders of haemostasis and thrombosis, diagnostics of the acute coronary syndrome.
Focused issue outline:
Manifesto for the future of laboratory medicine
Introduction of Glycated Albumin in clinical practice
Blood and CSF biomarkers for Alzheimer's Disease
Procalcitonin in acute infections: from the research laboratory to clinical impact – new
perspectives of biomarker use
Liquid biopsy: recent advances and challenges for personalized medicine
New biomarkers for personalized management of liver disease
Translational economics: delivering the return on investment in laboratory medicine
Acute kidney disease: from clinical to molecular diagnosis
Point-of-care in the management of severe bleeding: lights and shadows
GDF-15 and biomarker based risk stratification by ABC-score in cardiovascular disease
Pathology and laboratory medicine (PaLM) in universal health coverage