Guest editor (left)
Prof. Giuseppe Lippi
Section of Clinical Biochemistry,
University of Verona, Verona, Italy.
Guest co-editor (right)
Prof. Mario Plebani
Laboratory Medicine Unit,
Department of Medicine,
University of Padova, Padua, Italy.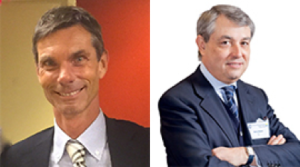 We are hereby pleased to offer readers of Journal of Laboratory and Precision Medicine to get to some great presentations which were delivered throughout The International Conference on Laboratory Medicine held in October 2018.
Original Article
Andrea Padoan, Chiara Cosma, Mario Plebani
Review Article
Daniela Basso, Carlo-Federico Zambon, Filippo Navaglia, Andrea Padoan, Stefania Moz, Dania Bozzato, Ada Aita, Mario Plebani
Perspective
Giuseppe Lippi, Emmanuel J. Favaloro
Giuseppe Lippi, Mario Plebani
Mario Plebani
W. Greg Miller
More are coming…
Disclosure:
The series "Laboratory Medicine-25 Years on" was commissioned by the editorial office, Journal of Laboratory and Precision Medicine without any sponsorship or funding. Giuseppe Lippi and Mario Plebani served as the unpaid Guest Editors for the series.