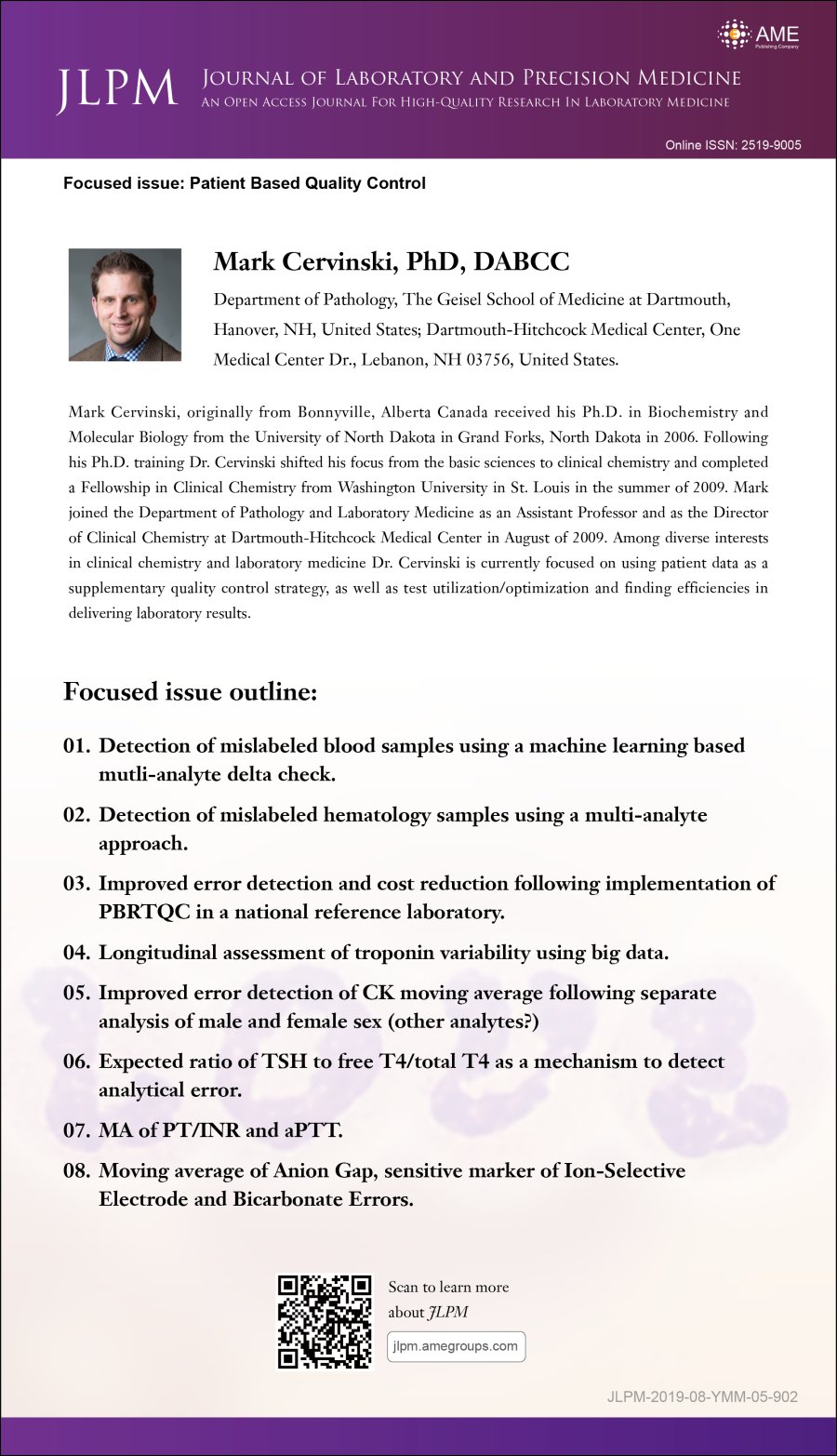 This focused issue on "Patient Based Quality Control" is edited by Dr. Mark Cervinski, from Department of Pathology, The Geisel School of Medicine at Dartmouth, Hanover, NH, United States; Dartmouth-Hitchcock Medical Center, One Medical Center Dr., Lebanon, NH, USA.
Dr. Mark Cervinski, originally from Bonnyville, Alberta Canada received his Ph.D. in Biochemistry and Molecular Biology from the University of North Dakota in Grand Forks, North Dakota in 2006. Following his Ph.D. training Dr. Cervinski shifted his focus from the basic sciences to clinical chemistry and completed a Fellowship in Clinical Chemistry from Washington University in St. Louis in the summer of 2009. Mark joined the Department of Pathology and Laboratory Medicine as an Assistant Professor and as the Director of Clinical Chemistry at Dartmouth-Hitchcock Medical Center in August of 2009. Among diverse interests in clinical chemistry and laboratory medicine Dr. Cervinski is currently focused on using patient data as a supplementary quality control strategy, as well as test utilization/optimization and finding efficiencies in delivering laboratory results.
Focused issue outline:
Detection of mislabeled blood samples using a machine learning based mutli-analyte delta check.
Detection of mislabeled hematology samples using a multi-analyte approach.
Improved error detection and cost reduction following implementation of PBRTQC in a national reference laboratory.
Longitudinal assessment of troponin variability using big data.
Improved error detection of CK moving average following separate analysis of male and female sex (other analytes?)
Expected ratio of TSH to free T4/total T4 as a mechanism to detect analytical error.
MA of PT/INR and aPTT.
Moving average of Anion Gap, sensitive marker of Ion-Selective Electrode and Bicarbonate Errors.
Disclosure:
The series "Patient Based Quality Control" was commissioned by the editorial office, Journal of Laboratory and Precision Medicine without any sponsorship or funding. Mark Cervinski is serving as the unpaid Guest Editor for the series.