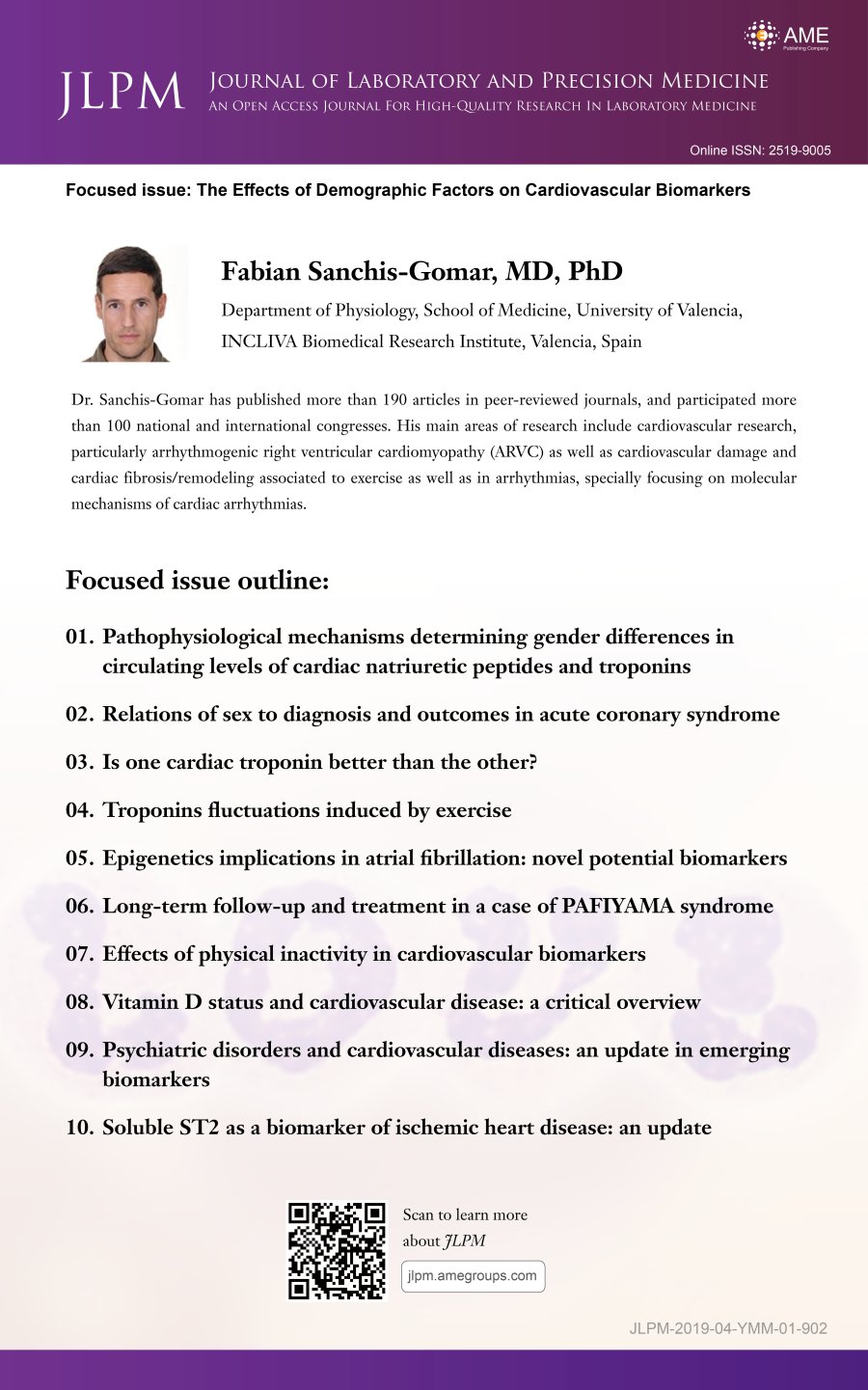 This focused issue on "The Effects of Demographic Factors on Cardiovascular Biomarkers" is edited by Dr. Fabian Sanchis-Gomar, Department of Physiology, School of Medicine, University of Valencia, INCLIVA Biomedical Research Institute, Valencia, Spain.
Dr. Sanchis-Gomar has published more than 190 articles in peer-reviewed journals, and participated more than 100 national and international congresses. His main areas of research include cardiovascular research, particularly arrhythmogenic right ventricular cardiomyopathy (ARVC) as well as cardiovascular damage and cardiac fibrosis/remodeling associated to exercise as well as in arrhythmias, specially focusing on molecular mechanisms of cardiac arrhythmias.
Focused issue outline:
Pathophysiological mechanisms determining gender differences in circulating levels of cardiac natriuretic peptides and troponins
Relations of sex to diagnosis and outcomes in acute coronary syndrome
Is one cardiac troponin better than the other?
Troponins fluctuations induced by exercise
Epigenetics implications in atrial fibrillation: novel potential biomarkers
Long-term follow-up and treatment in a case of PAFIYAMA syndrome
Effects of physical inactivity in cardiovascular biomarkers
Vitamin D status and cardiovascular disease: a critical overview
Psychiatric disorders and cardiovascular diseases: an update in emerging biomarkers
Soluble ST2 as a biomarker of ischemic heart disease: an update
Disclosure:
The series "The Effects of Demographic Factors on Cardiovascular Biomarkers" was commissioned by the editorial office, Journal of Laboratory and Precision Medicine without any sponsorship or funding. Fabian Sanchis-Gomar is serving as the unpaid Guest Editor for the series.