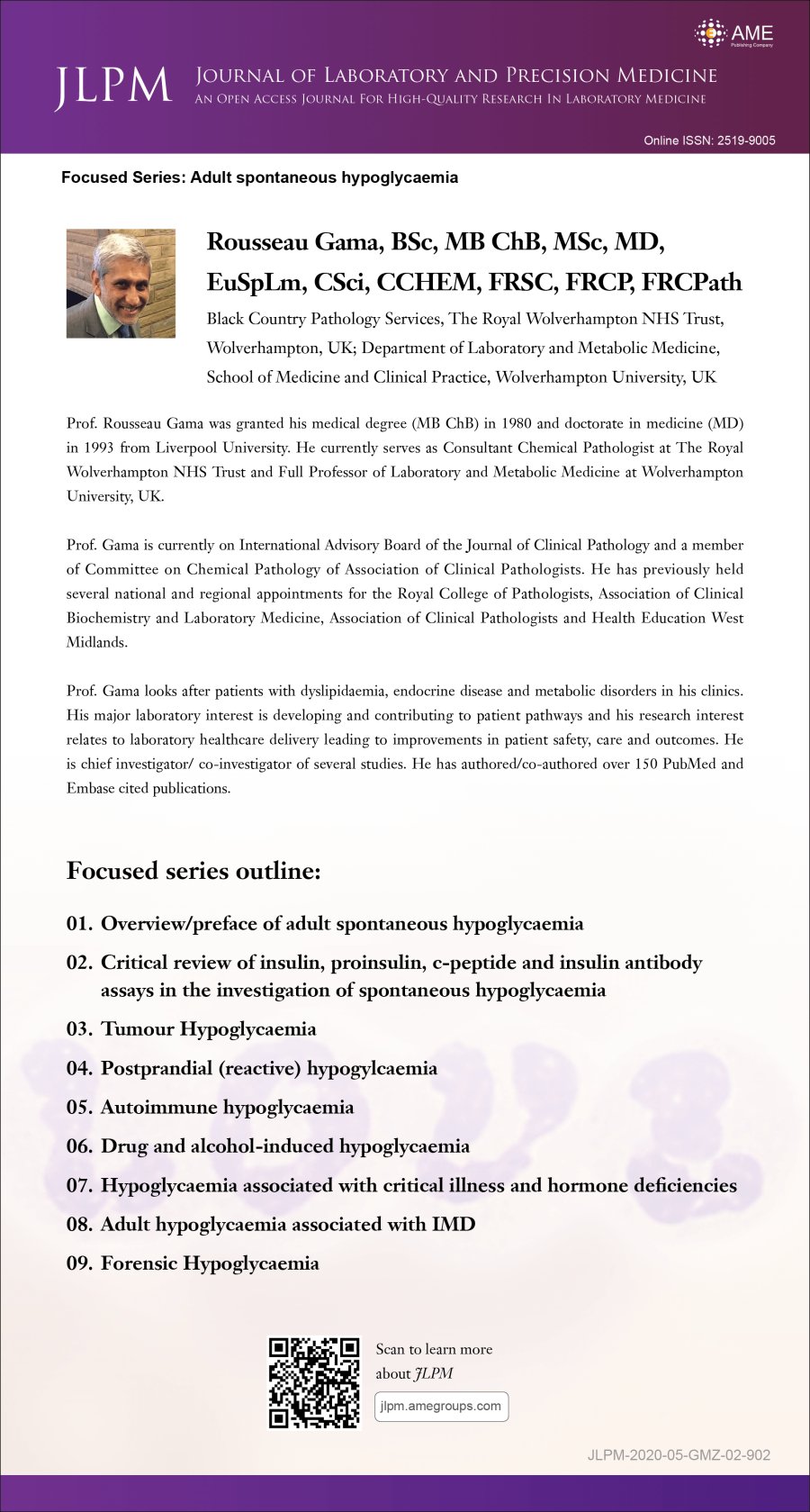 This Series on "Adult spontaneous hypoglycaemia" is edited by Dr. Rousseau Gama from The Royal Wolverhampton NHS Trust and Wolverhampton University, UK.
Rousseau Gama, BSc, MB ChB, MSc, MD, EuSpLm, CSci, CCHEM, FRSC, FRCP, FRCPath
Black Country Pathology Services, The Royal Wolverhampton NHS Trust, Wolverhampton, UK; Department of Laboratory and Metabolic Medicine, School of Medicine and Clinical Practice, Wolverhampton University, UK
Prof. Rousseau Gama was granted his medical degree (MB ChB) in 1980 and doctorate in medicine (MD) in 1993 from Liverpool University. He currently serves as Consultant Chemical Pathologist at The Royal Wolverhampton NHS Trust and Full Professor of Laboratory and Metabolic Medicine at Wolverhampton University, UK.
Prof. Gama is currently on International Advisory Board of the Journal of Clinical Pathology and a member of Committee on Chemical Pathology of Association of Clinical Pathologists. He has previously held several national and regional appointments for the Royal College of Pathologists, Association of Clinical Biochemistry and Laboratory Medicine, Association of Clinical Pathologists and Health Education West Midlands.
Prof. Gama looks after patients with dyslipidaemia, endocrine disease and metabolic disorders in his clinics. His major laboratory interest is developing and contributing to patient pathways and his research interest relates to laboratory healthcare delivery leading to improvements in patient safety, care and outcomes. He is chief investigator/ co-investigator of several studies. He has authored/co-authored over 150 PubMed and Embase cited publications.
Series outline:
Overview/preface of adult spontaneous hypoglycaemia
Critical review of insulin, proinsulin, c-peptide and insulin antibody assays in the investigation of spontaneous hypoglycaemia
Tumour Hypoglycaemia
Postprandial (reactive) hypogylcaemia
Autoimmune hypoglycaemia
Drug and alcohol-induced hypoglycaemia
Hypoglycaemia associated with critical illness and hormone deficiencies
Adult hypoglycaemia associated with IMD
Forensic Hypoglycaemia
Disclosure:
The series "Adult Spontaneous Hypoglycaemia" was commissioned by the editorial office, Journal of Laboratory and Precision Medicine without any sponsorship or funding. Rousseau Gama is serving as the unpaid Guest Editor for the series.