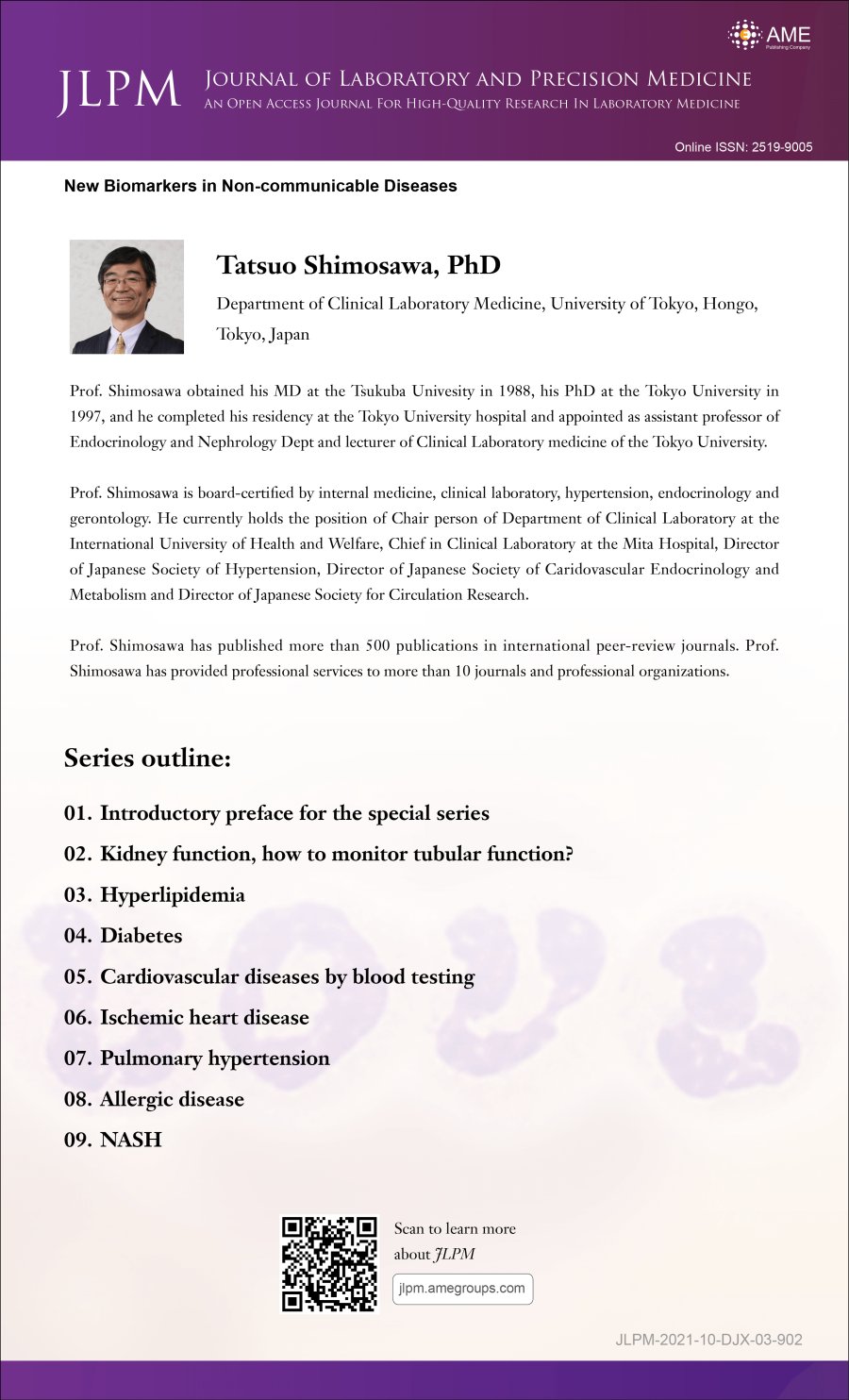 This Series on "New Biomarkers in Non-communicable Diseases" is edited by Dr. Tatsuo Shimosawa from International University of Health and Welfare, School of Medicine, IUHW Narita Hospital, Department of Clinical Laboratory,852 Hatakeda, Narita, Chiba 286-8520 Japan
Tatsuo Shimosawa, PhD
Department of Clinical Laboratory Medicine, University of Tokyo, Hongo, Tokyo, Japan
Prof. Shimosawa obtained his MD at the Tsukuba Univesity in 1988, his PhD at the Tokyo University in 1997, and he completed his residency at the Tokyo University hospital and appointed as assistant professor of Endocrinology and Nephrology Dept and lecturer of Clinical Laboratory medicine of the Tokyo University.

Prof. Shimosawa is board-certified by internal medicine, clinical laboratory, hypertension, endocrinology and gerontology. He currently holds the position of Chair person of Department of Clinical Laboratory at the International University of Health and Welfare, Chief in Clinical Laboratory at the Mita Hospital, Director of Japanese Society of Hypertension, Director of Japanese Society of Caridovascular Endocrinology and Metabolism and Director of Japanese Society for Circulation Research.

Prof. Shimosawa has published more than 500 publications in international peer-review journals. Prof. Shimosawa has provided professional services to more than 10 journals and professional organizations.
Series outline:

1.
Introductory preface for the special series
2.
Kidney function, how to monitor tubular function?
3.
Hyperlipidemia
4.
Diabetes
5.
Cardiovascular diseases by blood testing
6.
Ischemic heart disease
7.
Pulmonary hypertension
8.
Allergic disease
9.
NASH
Disclosure
:
The series "New Biomarkers in Non-communicable Diseases" was commissioned by the editorial office, Journal of Laboratory and Precision Medicine without any sponsorship or funding. Tatsuo Shimosawa is serving as the unpaid Guest Editor for the series.